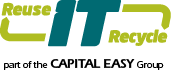 Reuse-RecycleIT is an Australian company specialising in the facilitation and logistics management of recycling and reusing end-of-life ICT and office equipment. This Canberra-based company brings together a talented team of professionals with many years of combined experience dedicated to providing customers nationally with a vendor independent, efficient and effective ICT asset disposal solution.
Reuse-RecycleIT is committed to a cleaner environment through reuse and e-waste recycling and with the help of ISO14001 Certification have achieved certification to the International Standard for Environmental Management, ISO14001:2004
Please Contact Us to find out how we can help you achieve this level.